2014 Resilient Agriculture Conference
Over 200 scientists, farmers, crop advisors and invited ag industry partners attended the Resilient Agriculture Conference held August 5-7, 2014, in Ames, Iowa. Conference sessions focused on climate uncertainty, impacts on agriculture and our water and soil resources, and what can be done to make the agricultural landscape both environmentally healthy and productive. Participants learned about existing and new practices that can help farmers create management systems that sustain a competitive agriculture and enhance the ecological integrity of the landscape at the same time.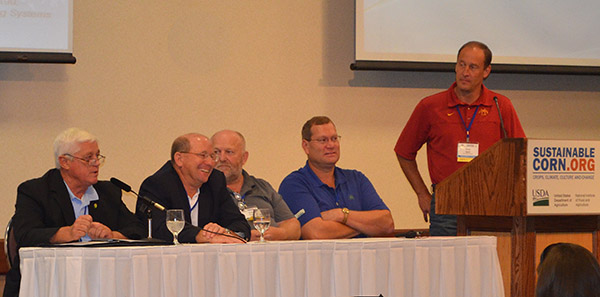 (Above, from the left...) Garry Niemeyer, Ray Gaesser, Andy Bensend and Pat Feldpausch -- all Corn Belt farmers -- discuss what they are doing in their farm operations to make them more climate resilient. The panel was moderated by Chad Ingels, Iowa State University Extension.
Conference videos
Videos of all conference sessions, including the farmer panel, can be found on our VIDEOS page. At the end of each session description, you will find a link to the speaker's PowerPoint presentation, in pdf format.
Conference posters
All posters presented at the conference can be found on our POSTERS page.
Links to additional conference handouts
Poster Symposium
PosterSymposiumHandout.pdf
25x'25 Adaptation Guide
http://www.25x25.org/storage/25x25/documents/Adaptation/agriculture_and_forestry_in_a_changing_climate_-_adaptation_recommendations.pdf
Climate Change Impacts in the United States – Highlights
http://nca2014.globalchange.gov/downloads
Cover Crop Field Guide
https://ag.purdue.edu/agry/dtc/Pages/CCFG.aspx
Statistical Atlas
http://sustainablecorn.org/What_Farmers_are_Saying/Stat-Atlas/StatisticalAtlas.pdf
Corn Growth and Development
https://store.extension.iastate.edu/Product/Corn-Growth-and-Development
Conference Hosts
The Climate and Corn-based Cropping Systems Coordinated Agricultural Project—commonly known as the Sustainable Corn Project—is a collaborative project among 10 Midwest land grant universities and an USDA agricultural research service. Project funding includes a grant from USDA-NIFA.

The team at 25X25 is a coalition of individuals and partner organizations united behind the goal of securing 25 percent of the nation's energy needs from renewable resources by the year 2025.
Thanks to our conference sponsors and all who helped to bring farmers, crop advisors and our Sustainable Corn Project team together this summer!