What Farmers are Saying
Farmers and scientists are learning how increased weather fluctuations and extreme weather events affect corn-based cropping systems in the upper Midwest, and how to create resilient cropping systems in response.
Farmer participation in this project
Over 160 Corn-belt farmers participated in this project. Each farmer provided production and agronomic data for two fields within their operation, which was analyzed by project scientists. Project farmers also participated in socio-economic surveys, provided other feedback and leadership for the project, and tested proposed management practices and cropping system changes.
Farmer survey
This project's social and economic research is focused on gaining knowledge of farmer beliefs and concerns about climate change, their attitudes toward adaptative and mitigative strategies and practices, and what support farmers need to make decisions. These research findings and participation in this project by farmers in the upper Midwest provide feedback for project scientists conducting field trials, analysis and modeling. Social and economic research findings will also form the framework for developing tools for farmer decision-making, education curricula and science-based policies.
How the survey was conducted
Project researchers partnered with the USDA-supported Useful to Usable (U2U) Climate project based at Purdue University. The CSCAP survey was sent to a stratified random sample of 18,707 farmers, with at least $100,000 of gross sales and a minimum of 80 acres of corn production in 22 HUC6 watersheds. The 22 watersheds cover a substantial portion of 11 Corn Belt states, all of which are classified as "major crop areas" for corn and soybean: Illinois, Indiana, Iowa, Kansas, Michigan, Minnesota, Missouri, Nebraska, Ohio, South Dakota and Wisconsin.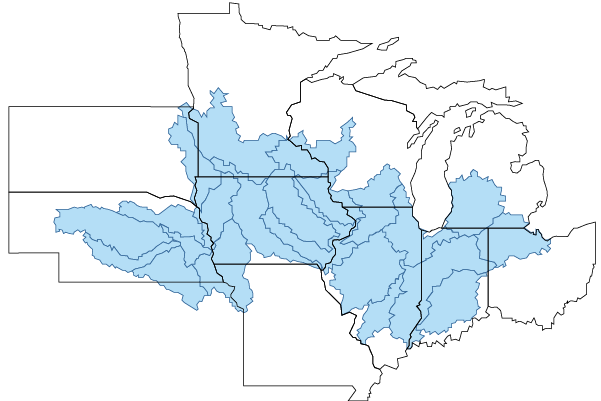 Reports providing insights from the survey can be found in the following two reports and on our research summaries page.
---
NEW: Midwest Farmer Adaptive Management Responses to Perceptions of Excess Water-related Risks.
This is a helpful handout for discussing variables that may influence farmer decisions regarding on-farm management practices, such as the decision to plant or not plant cover crops. THIS HANDOUT is based on research by the social science team of the USDA Sustainable Corn Project, led by Iowa State University. More details specific to this research and handout can be found online at https://www.researchgate.net/publication/275651778, in a paper authored by Lois Wright Morton, Jon Hobbs, J.G. Arbuckle Jr., and Adam Loy.
---
PowerPoints...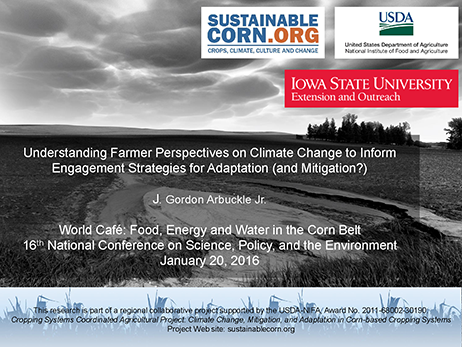 Understanding Farmer Perspectives on Climate Change to Inform Engangement Strategies for Adaptation. Presented Jan. 20, 2016, by J. Gordon Arbuckle, Jr. PowerPoint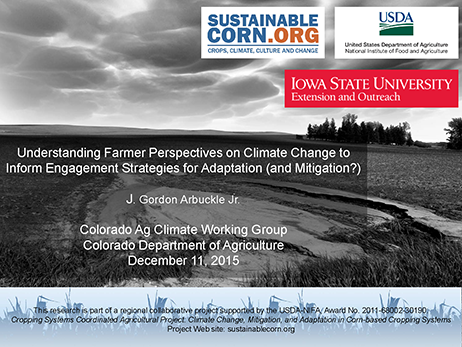 Understanding Farmer Perspectives on Climate Change to Inform Engangement Strategies for Adaptation. Presented Dec. 11, 2015, by J. Gordon Arbuckle, Jr. PowerPoint
Farmer interviews
Farmer interviews were also utilized for this project. University extension educators used in-depth interviews with 160+ farmers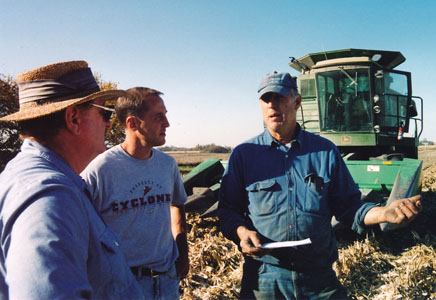 to gather data and foster educational opportunities to increase farmer knowledge and inspire learning about connections between management practices, climate variability, soil erosion, nutrient runoff, and atmospheric, economic and environmental impacts.
Investigators and extension educators conducted one-on-one interviews to examine the biophysical and financial characteristics of farmer's current operations and compare them to land-use scenarios that include various innovative, adaptive and mitigative practices that would be appropriate for their land. This approach provided real-farm platforms for structured climate- and agriculture-related discussions between extension educators and producers. This information helped gauge farmer willingness and capacity to adopt alternative cropping practices.
This video explores Corn Belt farmer views on changing weather patterns, as told through interviews with 7 established producers.

The video to the left was produced at this project's 2014 conference in Ames, Iowa. A panel of four Corn Belt farmers discuss adaptations they have made in their operations in response to variable weather.