Undergraduate Students
Undergraduate students also serve as team members, working closely with faculty and staff on specific parts of the project at their home university. They earn money, gain experience working in their field, and earn academic credit while fulfilling work responsibilities. (NOTE: Only a small sampling of participating undergraduate students are shown below.)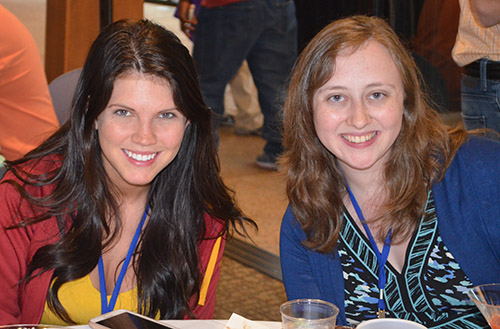 Above, undergraduate interns Shanon Smith (left) and Maggie McGinity (right) relax at an evening reception for participants of our Resilient Agriculture conference for our team members, farmers and crop advisors, in Ames, Iowa, August 5-7, 2014. In the fall of 2013, Maggie began serving as the project's videography intern. Today, as a senior in journalism and mass communications at Iowa State University (ISU), she continues in this role and has added website updating and office manager tasks to her 16-20/hour week. In early 2014, she worked with team members to create a video about farmer perspectives and concerns about climate change and extreme weather. The video, entitled "Views from the field: Farmers on changing weather patterns," premiered at the Resilient Agriculture conference. It can now be viewed on our YouTube channel: https://www.youtube.com/user/sustainablecorn.
Shanon Smith, a marketing and managment undergraduate at ISU, was a project management assistant this past summer and helped with preparations for the August conference.
Kimberly Jordan (above at left) was a communications intern for the project during her senior year at Iowa State University (ISU). Kim assisted the operations team with technical and content development of a new blog, several of the project's print publications and more. She earned her BS in Agricultural Communications May 2013 and is currently employed at NuTech Seed in Ames, Iowa, as an executive adminstrative assistant.

In her junior year in agricultural communications at ISU, Gabrielle Glenister (above at right) assisted the project manager with database updates, publications design and annual meeting preparation.

In 2013, as a senior in agriculture and life sciences education at Iowa State University, Morgan Schafbuch (above left) helped the team with its secondary school education goals and its evaluation process.